Whiskey River Ranch: Lines and Pedigrees

River, Magic, and Cherokee

We are pleased to introduce several new members of the Whiskey River Ranch family, each with foundation lines and breeding potential.
Stylin' Jac Beauregard (Whiskey) is our red, dun, quarter-horse stallion. His lines include Doc Bar, Peppy San Badger, Poco Bueno, Colonel Freckles, Nifty and Bee / Bert.

Chances Urocka (River) is our red, dun, quarter-horse mare. Her lines include First Chance Casey, Doc Bar, Grey Badger Three, Three Bars, Bert, and Oklahoma Star.
Black Magic Tango (Magic) is our black, quarter-horse mare. Her lines include Teques Tango, Teques Lady 231, Tequesite Lady 2, Seco Sport, Tally Up, and Triple Chick.
Tally Up Jet (Cherokee) is our sorrel, flaxen, quarter-horse mare. Her pedigree includes Hazel's Jetta, Tally Him Up (the son of Tally Up), Jet Silver, Three Bars, Triple Chick, and Fiery Sue.
Black Pearls and Lace is our black and white, American Paint mare. Her lines includes Doc Bar. We plan to add Black Pearls and Lace to our barrel-racing team this Spring.
Let 'em Wander is our gray, roan, thoroughbred mare. Her pedigree includes Northern Dancer, Round Table, Princequillo, Nasrulla, Native Dancer, War Relic, and Man-o-War. Let 'em Wander shares her pedigree with Secretariat.

...For information about Whiskey River Ranch foals, please email us at whiskeyriverranch3@gmail.com


Stylin' Jac Beauregard

Black Pearls and Lace

Wander and Magic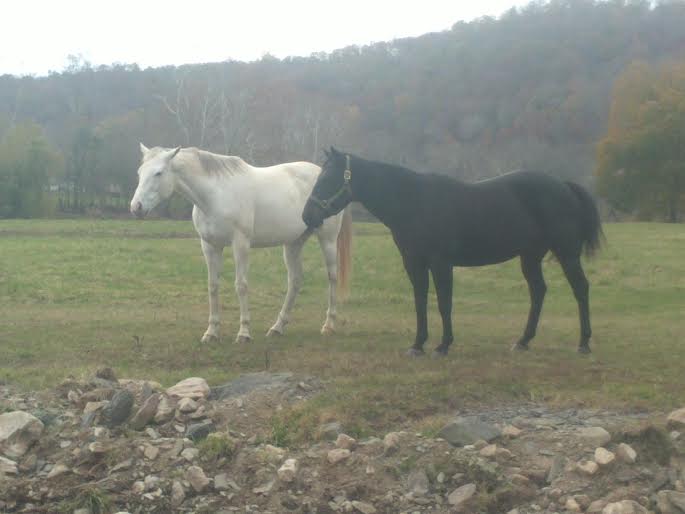 Zoey and Lady at the River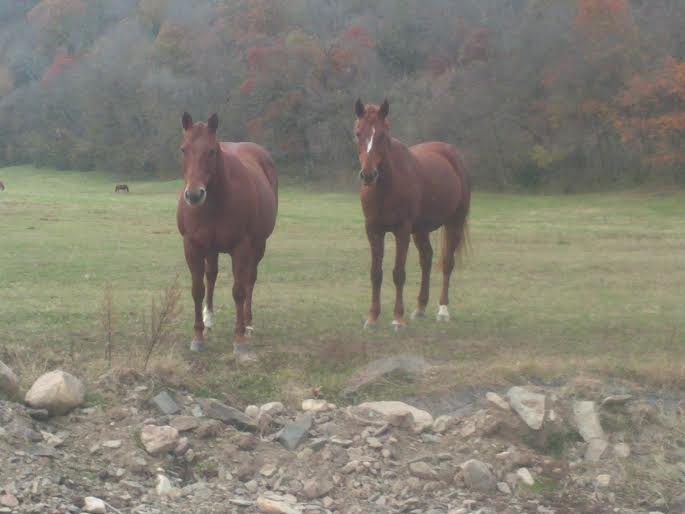 Friends at the River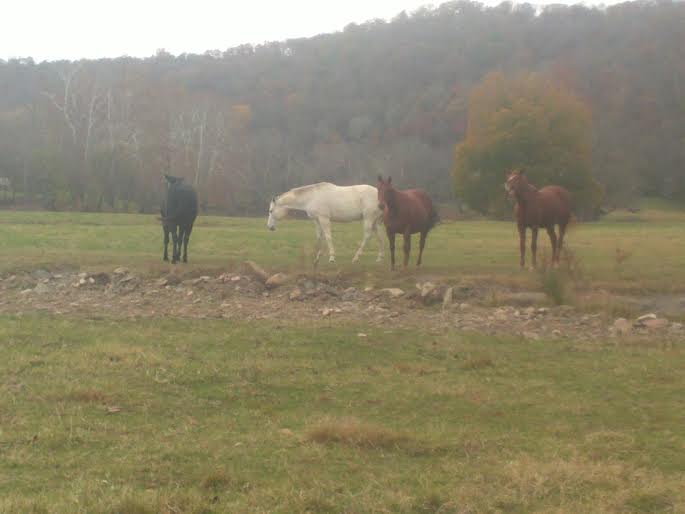 Fox Hunting with "Bobby"
A member of the Thornton Hill Fort Valley Hounds, my daughter loves the sport of fox hunting -- and riding her American Paint Horse "Bobby"!

Here we had a Shenandoah Valley "Perfecta" -- a perfect day, perfect weather and a PERFECT horse!
---
Jumping Bobby

Jade and Bobby had much fun jumping the brick wall ...

She won 1st place in a gambler's choice class (her competition was adults) over this wall with her American paint...

---

Jumping Outlaw

Jade has started training her Arabian to jump - had him going after just 2 days of work in the saddle ( he can really jump)... He is a green broke 6 yr old.

---
Horse and cart...a natural pairing...
"My daughter broke her first horse at ten years old (we took him on his first trail ride yesterday, with me walking alongside for about a quarter of a mile). She taught her pony to drive a pony cart! Her riding instructor is calling her a "little horse whisperer" ...isn't that cute? She does have a way with her horses..."


---
"Why did the turkey cross the trail?"
"We may never have the answer to that question, but we do have another horse tale out of Page County! My daughter was out walking our rescue horse, Sir Trenton, on one of the trails behind our house a short time ago, when all of the sudden, Mama Turkey crossed right in front of them, followed by her six little babies. Without flinching, Sir Trenton stopped in his tracks, lowered his head, and calmly watched Mrs. Turkey and her children pass directly underneath his belly as they crossed from one side of the trail to the other -- as did his rider! It's all about confidence -- and if you don't spook, neither will your horse - he takes his cue from you!"


Trigger: A great rescue horse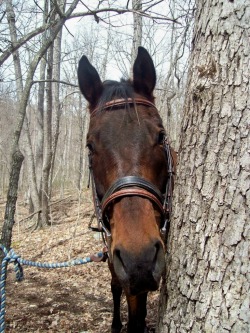 Trigger was a rescue horse. When Trigger came to me, he was only skin and bones, but after much love, proper care, and lots of feed – he rebounded.

Trigger stood 17.2 hands and was a big baby when it came to getting his feet wet... Lisa, Jade and Katherine would all laugh as we would trail ride and come up on a creek. I would say, "Oh no! Oh no!" - as Trigger would get so excited and just leap high in the air across the creek. I said my prayers and held on for dear life... lol ...One day Lisa said I looked like a pro on that one.

---
Horses soothe the soul: A tribute to Trigger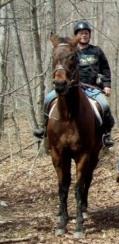 On the trail with Trigger
I enjoyed riding Trigger so much; so did Jade - he really taught me to ride and always took care of me... I am grateful for the time spent with Trigger - he touches our hearts to this day.

Trigger was such a great horse. I believe he knew we saved his life and he was grateful for all we did for him.

Trigger, we are grateful for all you did for us!

---