...It was exactly what my family was looking for in a vacation home -- relaxation, surrounded by beauty, and fun!
Click here for latest News and Reviews about all of our properties!
1850's Massanutten Springs Retreat Reviews
Martinez family—DC/NOVA.

Our family stayed at the 1850's Massanutten Springs Retreat for 2014 New Year holiday. We had three adults, three children, and two small dogs. We enjoyed the surprisingly well equipped kitchen and spacious sleeping areas. The cabin had multiple, modern televisions, games, books, basic seasonings in the kitchen, plenty of bedding, towels and toiletries, and blankets for sitting in the living room.

There was a fireplace in the master bedroom and the walk-in shower had two showerheads and a bench for sitting and chatting (in addition to a large tub). The spiral staircase was charming. We ran our dogs down the main road and they enjoyed seeing about a dozen hounds at one house and cows on another property.

There is a Walmart about 6 minutes away if you forget anything or need to buy starter logs (in the winter due to moisture in the wood from
outside). You can visit Luray Caverns for a nice day trip as it is
about 30 minutes away. This was a great way to start the New Year.

Martinez Family ...
---
"Hi Annette,

I just wanted to send you a quick message on our mini vacation. As soon as we walked into your place, we immediately felt right at home. It was so warm and comfortable and smelled really good too.

It was a nice touch with the Christmas tree and the champagne left for us. We already talked about returning in warmer weather to partake in the canoeing and riverboat cruise. We can't wait to come back.

Thank you for everything."

--Stacey -- January 2013
---
Annette,

Wanted to let you know how much we enjoyed our week at your Massanuten Springs cabin! We felt at home as soon as we entered the driveway. The inside did not disappoint! It was clean, open and welcoming. Exploring the cabin, we found it stocked with everything we needed for our stay.

The main reason we picked your cabin is because of the accessibility. My husband has mobility issues and uses a walker. He was able to make his way around the cabin nicely. He enjoyed the swing on the deck and lovely view of the mountains. He actually did more walking around the cabin than he does at home! The accessible shower was most welcome at the end of the day. Our bedroom in the "old cabin part" was very comfortable and drifted off to sleep imagining what it might have been like when it was home to someone in the 1850's.

My daughter and son-in-law accompanied us on our stay and we ALL enjoyed trips to the pond, nearby river access and rides on the country roads of Luray. Enjoyed the fire pit and s'mores in the evening. And thank you for telling us about the road through the forest and the Story Book Trail. We were able to push my husband along the trail very easily in his transport chair and he was able to enjoy the tremendous view of the valley at the end. Unable to climb the rocky trails for the beautiful views, this is a real treat for folks with mobility issues.

Thank you again for a great week at your lovely cabin. Hoping to see you next summer! We will definitely be back!

Gratefully,

--Elizabeth and Robert -Vienna, VA -- September, 2013

---
"Hi Annette Cates,

I wanted to let you know my wife Gaby, her family and I very much enjoyed your cabin and our stay. You truly have a beautiful piece of property.

Thank you,"

--Timothy Gerald -- July 2013

---
Gem of a Cabin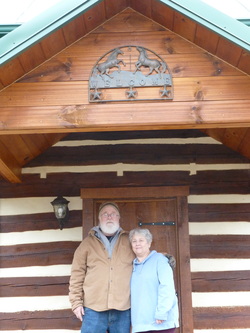 "We spent two weeks, from 12.24.11 till 1.7.12 in this gem of a cabin at 1912 Egypt Bend Road – a delightful place to get away, relax, read, and reconnect with family and friends. We enjoyed our days beneath the valley's expressive sky – the lovely play of sunlight on the background of multi-leveled mountains. Relaxing naturally, we were busy only with immediate concerns and pleasures; we enjoyed the fields and wooded acres we wandered amid the quiet and respectful country-side.

Don't miss the easy access to the Shenandoah River, "up the road and down the hill." We stood in awe under the dark night and its incessant stars, and warm inside we felt indulged with the cabin's posh amenities — central air/heat, plush towels, plenty of pillows —without the resort prices or crowds! We made good use of the cleanly equipped kitchen that allowed our guests to become hosts as we easily and joyfully played time-travelers between the 19th and 21st centuries— nestling into sleep before a well-stacked fire, dreaming of what the new year would bring. We look forward to seeing an assembled album of the pictures showing the processes of the restoration of the original 1850's log cabin and the expansion into the current accommodations – a place that felt like home, done up with obvious honest work, care, and expertise."

Thanks!

--Elyse & Graham Sound Beach, NY
---
---
Dear Annette,

"Thank you for the wonderful time we had at your Massanutten Springs cabin. It was exactly what my family was looking for in a vacation home -- relaxation, surrounded by beauty, and fun!

Your vacation cabin mirrored the very image of the 1800's homestead we've seen in books. You kept that part of the house so authentic despite the expansion that was added.
The addition to the cabin added valuable space with modern comforts of home, while preserving the realism of the cabin feel. The master bedroom fireplace added warmth and charm. The great room allowed us to move around freely yet feel cozy and close. Exactly what we needed to re-connect as a family. It's astonishing what you and your designers have done.

Even in the middle of winter we found myriad activities to enjoy ourselves: We walked the trails to the ponds and the Shenandoah River; we roasted marshmallows for 'smores' by the campfire; watched football on widescreen TV's; dozed off the afternoon; and not to forget, that first-rate hot tub we enjoyed after our hikes and visiting the caverns.

There's so much more to rave about. Your future guests will just have to experience these delights for themselves. It's a simple click to your website.
Again thank you, Annette. We hope to return to your cabin again very soon.

Warm regards, "

--The Bustamante Family
---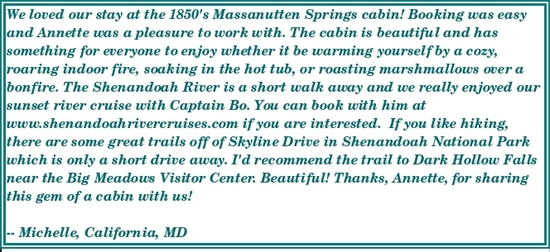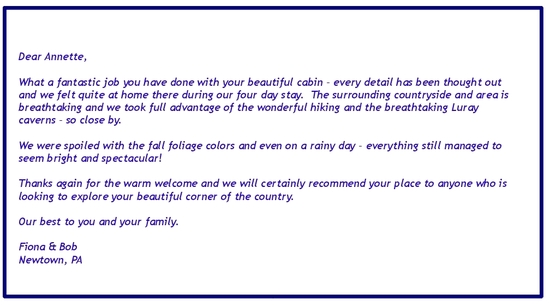 ---